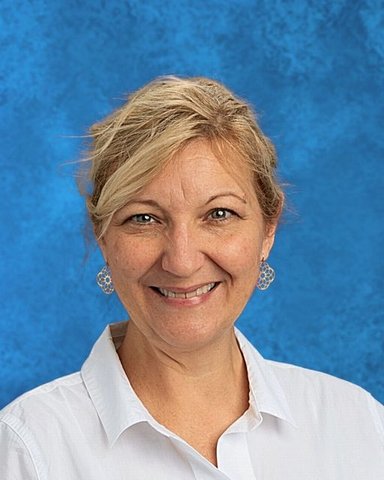 Mrs. Kim Tucker
Principal
Phone: (931) 598-5951
A Message From the Principal
I'm Kim Tucker and I have been the principal at Sewanee Elementary for six years. This is my 32nd year in education! I have been a principal for many years and for all grade levels, Pre K through high school. I currently live in Winchester with my husband, Scott. I have a daughter and a son, as well as two step-sons. They are all grown up now. We also have two precious grandsons and another grandchild due in January!

SES is a wonderful school, and the unique culture, history, and natural beauty of the community are treasures. I'm so glad that the school and community are a part of my life.
Sewanee Elementary School is a community school that embraces parental and community involvement. Our wonderfully creative and enthusiastic staff believes in preparing every child not only academically for the next step in their education but also socially, emotionally, and physically. To this end, Sewanee believes in teaching across the curriculum and teaching outside the four walls. Place-based learning, using the wonderful resources we have in our community, is an integral part of our school culture.
At SES the arts are an important part in the education of the whole child. Throughout the school year, every grade is involved in a musical skit in which they not only are learning acting and music, but also history, culture and public speaking. Each year our students work with a variety of artistic mediums in order to explore and expand their talents.

We strive to find opportunities for students to take an active role in the life of the school. Each year during Read Across America Week our students dress as their favorite book character/author to encourage and share the love and joy of reading. Throughout the year students participate in a Famous Persons Wax Museum, social studies fair, or other such academic endeavor. We have an annual staff that is student oriented. Our weekly assemblies offer a time to sing together, recognize students, and to welcome special guests.

At SES science does not begin and end in a textbook. Our Science Fair is enjoyed by all. The kindergartners and the first graders complete a joint project while the students in grades two through five put together individual projects and must be prepared to defend them when interviewed by the judges. Franklin County also has a "STREAM Machine" van that travels from school to school and houses a variety of instructional tools related to science. Sewanee Elementary also has an outdoor classroom area and nature trail that is utilized in our studies of the environment.
A great example of intertwining the arts, the traditional curriculum, and teaching outside the four walls is Friday School. Now in its forty-second year (1977), Friday School welcomes volunteers from Cowan to Monteagle to come together to share their talents and areas of expertise with the students. Spread out over four Friday afternoons, the students have the opportunity to take classes such as ecology, Spanish, gardening, nature hiking, arts & crafts, and equine care. The students would rather have Friday School than a snow day! We also have a Forest Kindergarten program that is quite unique. Each day, our kindergarten students spend time in our outdoor classroom area.
In an effort to keep the students mentally and physically fit, SES offers an intramural program many mornings before the school day begins. Also, the students and parents are encouraged to participate in the internationally recognized Walk to School Day and the Healthy Heart Challenge. We are proud of our athletes who compete in the nationally recognized Pepsi Punt, Pass and Kick competition or on our basketball team. We are pleased by our students' victories but, more importantly, we are proud that both the boys' and girls' teams play with heart, desire and good sportsmanship.
Volunteers are an important resource in all that we accomplish. On any given day throughout the school year, an extraordinary group of parents, retirees, college students and community volunteers can be found working with students, reading in small groups, assisting students with their math, or helping our students to appreciate the environment that surrounds our school.
At SES we are proud to be a school with a family atmosphere, where everyone pulls together for a common goal; the education of our children.